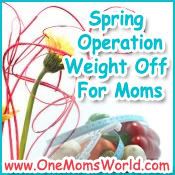 Jen over at One Mom's World is hosting a weigh loss challenge called Spring Operation Weight off for Mom's. We are blogging our current weight if comfortable and how much we desire to lose and then will be posting our weekly loss on Mondays. I'm so excited! I began a weight loss challenge 5 weeks ago and have currently loss 18 and I'm looking forward to taking off another 46!

My weight came of course with my pregnancies. After my second daughter I had gained 60 pounds. In 1998 I lost 60 pounds and I felt great. Two years after that I was blessed with another child and AFTER the pregnancy during nursing I gained it all back. I starved and didn't move and ate a lot of junk. Since then I haven't been able to commit long enough to lose it again. I want this year to be different.

So today my current weigh in is 181. My current goal is to lose 46 more pounds which will put me at 135. Visit Jen over at One Mom's World to join this challenge and to see other women who have stepped up to the plate to do something about their health! If you are participating please sign Mr. Linky!